Proud Tradition of Excellence and Dedication
IntelliScience Training Institute is a STEM-based research institution, located in the heart of Silicon Valley in San Jose, CA. Our teaching philosophy is based on academic excellence and dedication. We prepare students for future leadership and equip them with the skills that they will require to meet the future technological challenges. We assist them to explore their potential at best – We will break the barrier to identify your potential.


K-12 Enrichment Programs Summer and After School Camps
Robotics and Automation

Science Projects

Summer Camps

After School Camps

Special Programs for AP courses
Research and Development For Industrial Hands-on Experience
Industrial Research Projects

Short Courses on Technology

Enrichment Programs for Industry Short Course & Practical Training
Short Courses for Industry

Practical Training

Technical Seminars
Hands-On Experience in Industry
(STEM-Research Labs)


Announcements

2nd IntelliScience Bay Area Research Conference on High School and Undergraduate Research
Int-BARC- 2023 Saturday, April 22nd, 2023
San Jose State University, Department of Mechanical Engineering (Auditorium) Call (609) 558 1227 for Information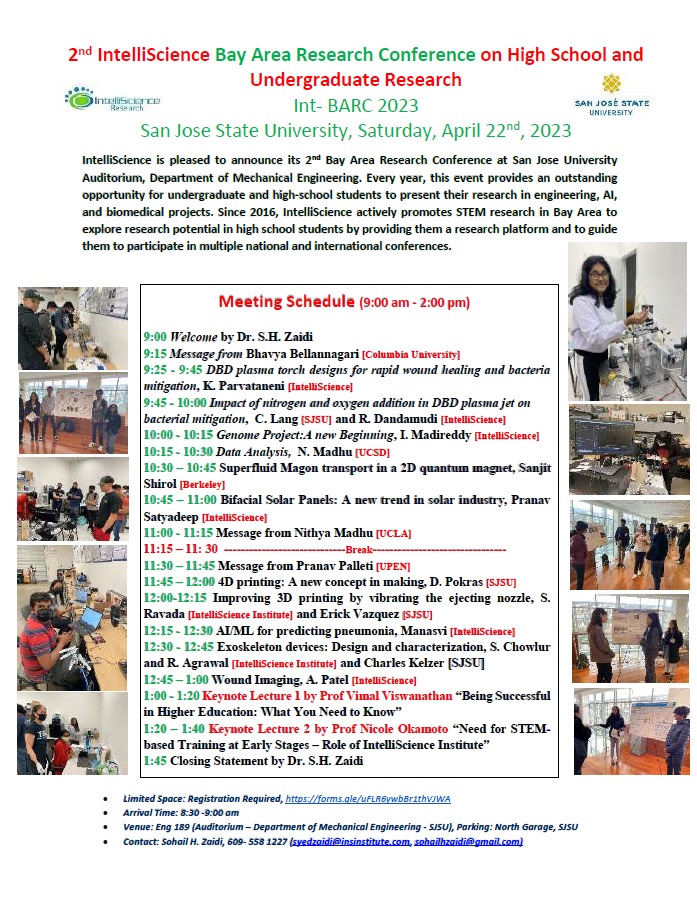 Areas of Research: Research Projects in the following areas are available - Call 609 5581227 for discussion
Robotics and Automation
Plasma Medicine: Developing Dielectric Barrier Discharge Plasma Torches for Wound Healing and Wound Sterilization
Wound Imaging and Automation for Scanning Wound Surfaces using Plasma Jets
Bifacial Solar Panels: Characterization
Designing Exoskeleton Devices to Assist Rehabilitation Exercises
Batteries Research: Investigating Thermal Runaway Conditions
Thrust Measurements for Toy helicopters
3D Printing: Enhancing the Printed Material Strength by Vibrating the Ejection Nozzle
4D Printing: A new Dimension to 3D printing
Applied Physics Lab to Conduct Experiments in Optics, Dynamics, Thermodynamics, Physics
Laser Lab: Multiple Experiments on Laser Related Projects
Plasma Labs: Investigating Plasmas and Their Applications in Engineering and Medicine
Collaboration
IntelliScience is proudly collaborating with the following organizations for conducting various STEM-based educational and industrial programs.
Stimulating Learning Environment
We offer a stimulating learning environment to all students where they find ample opportunities to explore and demonstrate their innovative ideas. Our programs are well equipped, print rich, and use rubrics to ensure participation of all students.